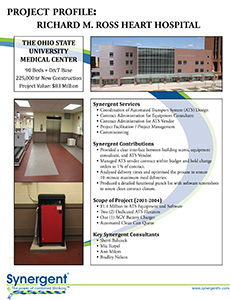 The Ohio State University Medical Center
90 Beds + D&T Base
5,000 SF of New Construction
Project Value: $83 Million
Synergent Services:
Coordination of Automated Transport System (ATS) Design
Contract Administration for Equipment Consultant and ATS Vendor
Project Facilitation / Project Management
Commissioning
Synergent Contributions:
Provided a clear interface between building teams, equipment
consultant, and ATS Vendor.
Managed ATS vendor contract within budget and held change
orders to 1% of contract.
Analyzed delivery times and optimized the process to ensure
10-minute maximum meal deliveries.
Produced a detailed functional punch list with software screenshots
to assure clean contract closure.
Scope of Project (2001-2004)
$1.4 Million in ATS Equipment and Software
Two (2) Dedicated ATS Elevators
One (1) AGV Battery Charger
Automated Clean Cart Queue
Key Synergent Consultants: