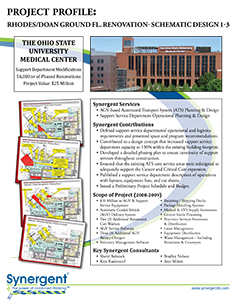 The Ohio State University Medical Center
Support Department Modifications
56,000 SF of Phased Renovations
Project Value: $25 Million
Synergent Services:
AGV-based Automated Transport System (ATS) Planning & Design
Support Service Department Operational Planning & Design
Synergent Contributions:
Defined support service departments' operational and logistics requirements and presented space and program recommendations.
Contributed to a design concept that increased support service department capacity to 150% within the existing building footprint.
Developed a detailed phasing plan to ensure continuity of support services throughout construction.
Ensured that the existing ATS core service areas were redesigned to adequately support the Cancer and Critical Care expansion.
Published a support service department description of operations with layouts, equipment lists, and cut sheets.
Issued a Preliminary Project Schedule and Budget.
Scope of Project (2008-2009)
$10 Million in AGV & Support Service Equipment
Automatic Guided Vehicle (AGV) Delivery System
Two (2) Additional Automated Cart Washers
AGV Service Pathways
Three (3) Additional AGV Battery Chargers
Inventory Management Software
Receiving / Shipping Docks
Package Handling Systems
Medical & EVS Supply Storerooms
Central Sterile Processing
Nutrition Services Storeroom & Distribution
Linen Management
Equipment Distribution
Waste Management – Including Rotoclaves & Conveyors
Key Synergent Consultants: