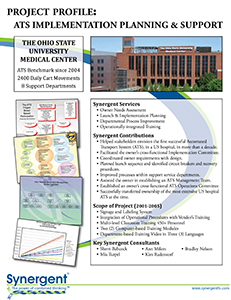 The Ohio State University Medical Center
ATS Benchmark Since 2004
2,400 Daily Cart Movements
8 Support Departments
Synergent Services:
Owner Needs Assessment
Launch & Implementation Planning
Departmental Process Improvement
Operationally-integrated Training
Synergent Contributions:
Helped stakeholders envision the first successful Automated
Transport System (ATS), in a US hospital, in more than a decade.
Facilitated the owner's cross-functional Implementation Committee.
Coordinated owner requirements with design.
Planned launch sequence and identified circuit breakers and recovery procedures.
Improved processes within support service departments.
Assisted the owner in establishing an ATS Management Team.
Established an owner's cross-functional ATS Operations Committee.
Successfully transferred ownership of the most extensive US hospital ATS at the time.
Scope of Project (2001-2005)
Signage and Labeling System
Integration of Operational Procedures with Vendor's Training
Multi-level Classroom Training 450+ Personnel
Two (2) Computer-based Training Modules
Department-based Training Video in Three (3) Languages
Key Synergent Consultants: